Number One Brick Pavers Contractor in Costa Mesa, California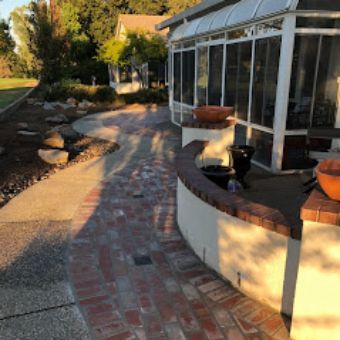 Imagine your home with a gorgeous new brick paver patio, an appealing garden path, and entryway, or even a new brick paver pool deck as part of your outdoor facade. Costa Mesa Concrete Company is pleased and able to handle all phases of your brick paver installation, repairs, and maintenance. Our Costa Mesa brick paver services include pool coping, retaining walls, and erosion control. 
We strive to present innovative products to our clients to ensure customer satisfaction as excellent customer service is one of our priorities. Give us a call on (949) 763-3461 and let us know what service you require of us. We assure you that we will do our very best to make your project with us a fulfilling experience. 
Brick Paving Specialization
Our paving specialists are among the best in the Costa Mesa area, so if you are searching for a brick paver contractor near you, look no further. We have the expertise and resourcefulness to help you transform a dreary, out of use yard into a sophisticated living space where you and your family or guests can relax and enjoy the beautiful outdoors. Thanks to our meticulous installation methods and exceptional service, we endeavor to beat customer expectations on every job we take on.
Let us help you make the most of your outdoor area with beautiful brick patios or walkways. Call Costa Mesa Concrete Company today to get more information or even to schedule a quote.
About Brick Pavers
Brick Pavers are great applications that can transform your driveways, walkways, pool decks, patios, and other outdoor surfaces into appealing spaces on your property. There are a variety of brick pavers available such as clay brick pavers, concrete brick pavers, and many more types. The wide range of brick paver types allows for unique color-matching with already existing outdoor elements like fireplaces, outdoor kitchens, and fire pits.
Brick Paving offers an assorted variety of paver surface finishes, ranging from smooth finishes to beveled finishes, and even rougher textured finishes. There is also a more intricate collection of paver shapes, and arranging patterns can improve the architectural design of your outdoor hardscapes. Brick paving is a versatile surface that can transform a basic landscape into a graceful, practical outdoor living area. 
Hiring The Right Contractor
If your backyard lacks appeal and needs a boost, call Costa Mesa Concrete Company on (949) 763-3461, and our expert craftsmen who specialize in paver installation will add beauty and function to your property through flawless brick paver installation. Your new brick patio will add style and a whole new appearance to your backyard. 
When you are looking for a contractor near you or in your area to handle your next brickwork project, it is highly recommended that you do not settle for just any contractor to avoid wasting money and time and getting bad results due to poor workmanship. Let experienced professionals at Costa Mesa Concrete Company wow you with our excellence and experience.
Other Services
Apart from brick paver installations, our highly-skilled and capable team also undertakes repairs, replacements, and maintenance of your brickwork surfaces. And the best part is that we ensure your project is completed in a timely manner and without exceeding your project budget. Your satisfaction and delight in the results of our execution matter to us! 
Maintaining your brick pavers in certain spaces like entrance areas, tree rings, sidewalks, patios, pool decks, balconies, lawn edging, etc. is essential due to exposure to the elements, high wear and tear, exposure to chemicals and so much more. At Costa Mesa Concrete Company, we offer long-term maintenance service for your brickwork as the different types of pavers require different maintenance conditions. We can also guide and advise you on the kind of brick pavers to use in certain areas of your property, as certain pavers are vulnerable to color fading and other issues. We ensure our clients that their investment in brick paver installation is protected, and their brickwork looks great for years to come. 
Call us at (949) 763-3461 for free quotes.