Costa Mesa Colored Concrete
One of California's Most Preferred Costa Mesa Colored Concrete Contractors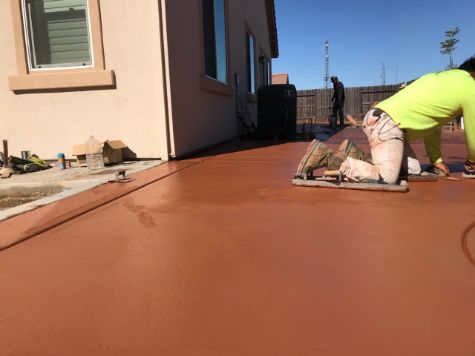 Welcome to the Costa Mesa Concrete Company, where you get the best quality concrete and masonry services near you! We are pleased and ready to handle all the concrete work you need to be done in your residential or commercial premises ranging from simple tasks such as concrete kitchen countertops to big jobs like concrete pool decks and patios. Whatever you want, we can handle it and deliver it flawlessly.
So call us now via (949) 763-3461 and get a free estimate. Let us begin on your next masonry or concrete finishing work.
Most often, people resign concrete surfaces to a plain gray color, but thanks to innovation in architecture and home design, specialists are making concrete look amazing by coloring or staining it to give a hue that is not the usual gray. Throughout the Cosa Mesa area, we provide residential, commercial, and also industrial properties with stunning ornamental concrete work that will imitate the look of brick, wood, stone, or tile at a fraction of the cost of those more expensive surfaces. We want our customers to rest assured that we can provide them unique concrete work that would reflect their personalities.
Costa Mesa Colored Concrete Services
We have a highly-skilled team of concrete experts who can deliver top-notch work to you and ensure your complete gratification. With exclusive techniques, our crew will improve the typical gray concrete surface you desire by incorporating colors into the concrete before it is poured to achieve a beautiful decorative appearance that would turn your space from plain to elegant.
Acid staining is another way to add color to concrete surfaces and obtain vibrant colors due to the acid's reaction with the concrete. Acid staining gives a very obvious marbling effect on concrete. This method of coloring concrete changes the color of the concrete and gives the surface a stunning, vibrant veined and marbled effect that is incredible.
Another option for concrete coloring concrete is applying a color hardener to the top layer of your poured concrete. Though the colors achieved by using a color hardener are more vibrant, this method of coloring concrete would require extra sealing to keep the color bright and the finishing flawless.
Hire Costa Mesa Concrete Company
At Costa Mesa Concrete Company, we are capable of refinishing your existing concrete work with coloring to make your surface look brand new. We can do this for you without teasing up or replacing your existing concrete applications. With the use of some special chemicals and polymers, we can satisfactorily bind the old existing concrete to the newly installed concrete. Your new concrete overlay can now be stamped and colored or even decorated; however, you like to create the perfect look you desire.
Whatever kind of color you employ for your concrete, whether it is a stain, an integral color, a dry-shake hardener, or a dye, what you should always consider when making a choice is the effect you want to achieve. If you want kitchen countertops with a veined appearance, then acid stains would work better for your concrete surfaces. You can opt for concrete dyes if you prefer to have more complex patterns and bold colors. If you want a fade-resistant color that looks layered, then your best bet would be integral colors. The list of choices and designs for your Costa Mesa colored concrete work is truly endless.
Call us on (949) 763-3461 and let us schedule an appointment and offer you great cost estimates to ensure you do not break the bank while getting beautiful colored concrete work on your premises.