Costa Mesa Concrete Resurfacing
Excellent Concrete Resurfacing Contractors in Costa Mesa, California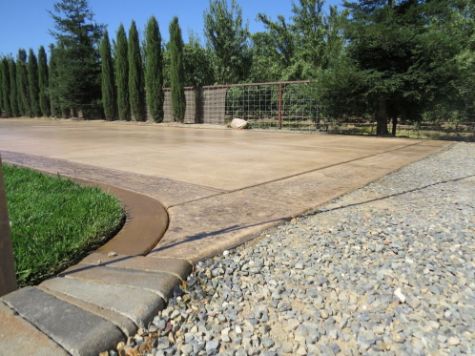 You are planning to give new looks to your existing concrete without removing your old concrete. It is now possible with Costa Mesa concrete resurfacing. All of your driveways, concrete paths, and floors can be easily resurfaced with new designs using new techniques that save not only your money but also time.
To know more about the options available, give Costa Mesa Concrete Company a call at (949) 763-3461 and get free estimates.
We have been in this field for years and specialize in all types of concrete refinishing works. 
What is Concrete Resurfacing?
Concrete resurfacing is done by adding decorative layers to your existing concrete to repair it and give it a new look. The decorative layers may be polymer-modified or cement-based overlay systems. Apart from giving a great overall look, the polymer-modified overlay is more durable and resistant to wear and tear too. There are a number of patterns and designs of concrete available to choose from. 
Facts you Should Know About Concrete Resurfacing
Concrete resurfacing is one of the best alternatives to change the look of your patio, driveways, etc. and convert the old concrete into a more utilitarian surface. Depending on the type and the grade of materials we use, the surface may acquire an aesthetic and natural look. 
Resurfacing repairs and strengthens your old concrete slabs. The new surface laid will seal all the minor cracks, clean all the stains, and make the concrete slab look absolutely new. However, the new look and the durability depends upon the quality of materials and additives we use. 
Compared to the final results you get, the concrete finishing and overlaying done by Costa Mesa Concrete Company are very inexpensive. If you are planning to resale your property, you must get concrete finishing done first. The new looks will increase the value of your property. It definitely is a long-lasting investment. 
Time taken to complete the concrete resurfacing procedure is very less. It takes a maximum of one week to get dry and settled completely. While overlaying, we keep in mind that your daily chores remain unhindered. 
Types of Concrete Resurfacing
Micro toppings and Skim coat: These are polymer-based systems. The layer applied is very thin as compared to other types of concrete finishing. However, they give an elegant look and are also durable to tough weather conditions.
Stamped concrete: It is a coloring process involving a chemical reaction. It emulates the look of natural stones, bricks, etc. The application of concrete is a bit thick due to which cracks and gaps, if any, are completely covered.  
Spray-down systems: This is more suitable for driveways, decks, and sidewalks.
Self-leveling overlays: This process is often recommended where the level of the floor is uneven. This procedure helps in leveling the uneven surface of the floor. 
Underlayment: This procedure requires the removal of unwanted weeds and grass, and then the gaps are refilled with sand and cement as required.
Whatever the procedures are, Costa Mesa Concrete Company is an efficient team with years of experience behind and dedicated workers who will complete all the concrete resurfacing work before time.
So, if you are looking for the best concrete resurfacing contractor around, do call Costa Mesa Concrete Company at (949) 763-3461 and relax!