Excellent Costa Mesa Stamped Patio Contractors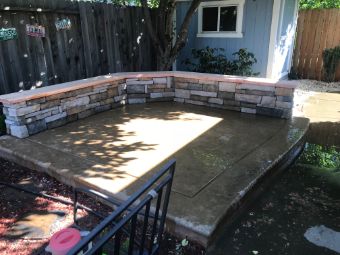 Costa Mesa Concrete Company is your source for superior concrete installations, maintenance, repairs, and replacement in your area. Whether you are interested in adding something extra to the aesthetics of your property or whether you want to diversify your various surfaces, making the decision to call us on (949) 763-3461 will provide you with great results as we offer our clients the best in terms of experience and expertise in all kinds of concrete work. 
Our dedication to ensuring our customers the best in concrete solutions makes us strive to employ the best concrete contractors as well as use equipment and techniques that meet and surpass industry standards. We aim to not just give your surface functionality but also to beautify the Costa Mesa area one surface at a time with our excellent work results and unmatched customer service. 
Our Concrete Services
We provide our customers with an extensive range of concrete services in order to guarantee that we can meet your needs. From poured concrete flooring to pool decks and much more, you are more than able to turn your property into an architectural dream surface by surface, so do not hesitate. Give us a call and let us change the look of your residential and even commercial property. 
Stamped Patios
Costa Mesa stamped patios is quickly becoming a favorite surface for home designers and landscape experts because of its sophisticated look without breaking the bank. Also stamped concrete for your patios make for a very durable installation. It is easy to apply and does not allow for growth of grass or weeds. Another great feature of having a stamped concrete patio: Your stamp design can be totally customized. 
Each patio can be textured or imprinted to have the realistic look of other popular materials such as wood, flagstone, slate, brick, tile stone, etc. These creative choices will make your stamped concrete patio look incredible as you can match your patio to your overall landscape and theme.
Call us on (949) 763-3461 and let us help you create a patio that you would enjoy for many years to come.
Apart from installing new stamped concrete patios, we also take on repairs, replacement, and maintenance of your stamped concrete patios. We also offer services such as sealing that will keep your stamped concrete surface protected from chemicals, the elements, and usage. 
At Costa Mesa Concrete Company, we recognize the importance of working with a budget to keep expenses within range. That is why we recommend that you give us a call so that we can offer you accurate quotes on your next concrete project. We are honest with our estimations and will consider a number of factors that can affect your budget, and we will ensure that we give you the best value for your buck.