Costa Mesa Decorative Concrete
Most Trusted Decorative Concrete Contractor in Costa Mesa, California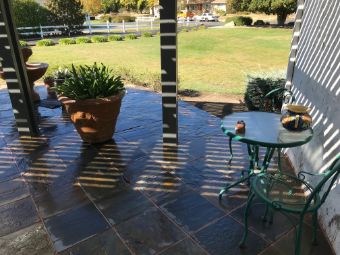 Costa Mesa Concrete Company is a trustworthy concrete company with many years of experience in constructing sturdy concrete work for both residential and commercial projects. Our capable crew of contractors will design and install your Costa Mesa decorative concrete to endure all weather conditions so that you will not have to be bothered about surface issues due to cracking and settling. Our contractors employ top-quality materials, tools, and equipment while handling any size of concrete job to make sure you get the exact look you desire for your home, office, or business. 
Having beautiful, flawless, decorative concrete surfaces for your patios, pool decks, outdoor kitchens, driveways, etc. is not made easy as we are just one phone call away. We would love to work on your next concrete project, so call us on (949) 763-3461.
Your concrete flooring should not be a plain jane in your home or business premises. You can actually turn this versatile material into a work of art with a variety of concrete decorating styles to complement the theme of your premises. The concrete of your home can be designed to complement any décor style. Let Costa Mesa Concrete Company help you beautify your home and improve curb appeal. We are a solid choice for all kinds of decorative concrete services you may need. Maybe you want to renovate an existing concrete element or install a brand new one, rest assured that you can count on us to do the job accurately. We will execute our work in accordance with your budget and time to turn your design dream into a reality.
Types of Decorative Concrete
Stamped/Textured Concrete
Stamped concrete is a special type of decorative concrete that is made to look like more expensive surfaces such as flagstone, tile, stone, brick, slate, wood, and many more patterns and textures. Stamped concrete is most often used for pool decks, patios, and driveways. Stamped concrete's versatility to mimic materials to make it a cheaper alternative to using those more costly materials like slate, stone, or brick. 
Stained Concrete
Stained concrete is an incredible way to create unique effects and appearances on concrete as your concrete contractor can unleash their artistic or creative side. Acid stains, also known as reactive stains, are a favorite for most homeowners as acid stains can give concrete a mottled or marbled look that is vibrant and long-lasting. Water-based stains are easier to employ and more versatile than the acid stain. At Costa Mesa Concrete Company, we will offer you advice and recommendations on the best kind of stain to use for your concrete depending on the look you want to achieve in your home. Stained concrete is an ideal surface for your concrete kitchen countertops, so call us today on (949) 763-3461 and let us start your concrete project.
Exposed Aggregate
Exposed aggregate is the oldest and most commonly used form of decorative concrete. It is very simple to install and is also affordable while creating unique designs and looks with your concrete. The typical aggregates used are rivers, rocks, and crushed granite. Some people prefer to use materials such as sea glass, bead glass, and even seashells. The possibilities are endless, with exposed aggregate concrete surfaces. This type of decorative concrete flooring is great for pool decks as the exposed aggregate offers traction.
Other Types of Decorative Concrete
There are other kinds of decorative concrete options like colored concrete and stenciled concrete, which can be used on your patios, driveways, retaining walls, pool decks, and any other concrete element you might desire to create or update in your residential or commercial property.
Say goodbye to boring concrete and say hello to beautifully designed ornamental concrete surfaces that would ensure your home looks incredible. Our capable concrete professionals will create exactly what you want, how you want it. Call us today at (949) 763-3461.