Costa Mesa Concrete Pavers
Top Concrete Pavers Contractor in Costa Mesa, California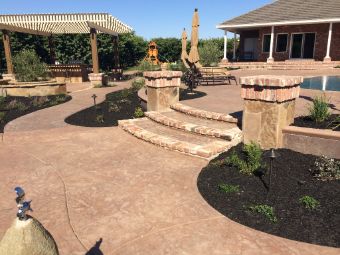 If you desire expert paving stone installations for your driveways or patio, then you are welcome to the Costa Mesa Concrete Company as we are ready and able to handle all your concrete paving projects. Our high-quality and durable paver installation will definitely change the appearance of your residential or commercial property. 
Our concrete paving in Costa Mesa services ranges from simple small installations on your driveways and garden walkways to more complex concrete paving installations on patios and pool decks. All concrete paving work we handle is executed to meet and exceed industry standards and comes with a guarantee on our expert workmanship.
With paving stone installations, your choices can vary from natural stone to fabricated stone. With a wide range of colors, styles, and textures available, making your desire a reality is easy. Patterns and edging can be easily installed to add that extra touch of class to your concrete paver installation.
When an appointment is scheduled, we will offer you a range of options that would suit your needs or wants. Extra options such as edging or drainage can be checked to know if they are required for your paver installation. Give us a call today on (949) 763-3461 and make that appointment. 
Concrete Pavers
Concrete pavers offer a simple way to obtain the nice brick appearance on your outdoor surfaces such as walkways, patios, driveways, and any other outdoor surface.
One of the benefits of applying concrete pavers is that it is an easy method of adding instant personality and charm to the outdoor of your property. Concrete pavers offer a wide range of design and style options while ensuring that your surface is as durable as it is appealing. 
Concrete pavers come in different colors, textures, sizes, and even thickness. You can also customize your concrete pavers the way you want. This medium has a natural look and gives an effortless minimalist finish. Installation of concrete pavers is straight-forward, requires cheaper raw materials, and is actually more durable than poured concrete. 
Concrete Paver Driveways
Homeowners are starting to catch on the trend of installing impressive driveways in their homes to add design to any property, and concrete pavers are a great way to add instant innovative look to any functional surface. There are a wide range of concrete pavers to make a choice from in to keep the colors of the exterior of your home coordinated. You can add a sophisticated touch to your projects with a complementary border. 
Concrete Paver Retaining Walls
Retaining walls go nice with concrete pavers desgin. They are very easy to create stacks to create a preferred pattern. We can assist you in coordinating these materials to the retaining walls of your patio or driveway to create an appealing radiance in your outdoor landscape. 
Give Us a Call
We assure our clients of excellent concrete pavers installation that would add beauty as well as long-lasting functionality at a cost that will not exceed their budget. So contact us today on (949) 763-3461 and let us give you top-quality results on your next project.