Costa Mesa Concrete Countertops
The Best Concrete Countertops Contractors in Costa Mesa, California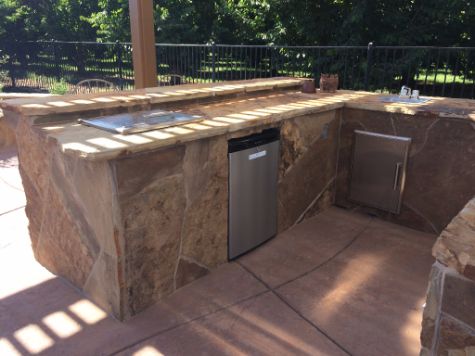 Concrete countertops for kitchens or bars, indoors, or outdoors provide your home with a high-end look. When constructed, designed, and finished properly under the supervision of experts, Costa Mesa concrete countertops can outweigh even the expensive looks of granite countertops and natural stone countertops. With rock-solid hardness and near to perfect resemblance to the industrial aesthetics of the modern-day, concrete countertops have come leaps and bounds. 
To give your countertops those gleaming looks and one of a kind finish, contact our experts at Costa Mesa Concrete Company at (949) 763-3461 now!  
Costa Mesa Concrete Countertop Professionals – Why hire us?
There is a misconception among the homeowners that since countertops are small structures, they can prepare and install them by themselves. Some homeowners are also of the frame of mind that since concrete is mostly used as a utilitarian material, concrete countertops are cheap. These thoughts, in reality, are far from the truth. 
Concrete countertops aren't as cheap as one might think. In fact, they are one of the most expensive of the countertops. Also, a lot of expertise, experience, and eye-to-detail are required when constructing concrete countertops. One small mistake while preparing a mix can lead to cracks on the countertops over time, which are almost irreparable. Our highly experienced Costa Mesa Concrete Countertop colleagues are experts at avoiding such mistakes and providing you with a concrete countertop that not only fits well with your cabinets but also reflects your taste.
Concrete Countertop Experts – What they do?
Though concrete countertops look like big thick slabs, in reality, they are not. The molding on edge makes them look thicker than they actually are. However, they are thick enough to damage your cabinets if not supported adequately. We at Costa Mesa Concrete Company, with years of hands-on experience in constructing modern countertops, know how to tackle the situation. 
We reinforce the cabinets and sometimes, even floors with an appropriate concrete mix to make sure that the cabinets are able to withstand the load put on by the countertops. 
Constructing and Installing a Readymade Concrete Countertop
Constructing a concrete countertop can be a cumbersome process and also requires a sufficient amount of time to cure properly. This can cause a lot of disturbance in your kitchen activities. This is the reason why we normally advise our clients to opt for a readymade countertop which will be fabricated in our premises according to their liking. 
If you decide to go with a readymade countertop, one of our experts will visit your home to take measurements of the space where it needs to be installed. He/she will also take note of the design, colors, and the kind of finish you are looking for. 

Depending on your requirements, we prepare the frames for the countertops into which the concrete mixed with colors and additives as you desired. Once fully cured, we polish the countertop's surface to achieve the finish you have asked for. Next comes installation.

As mentioned earlier, our installation staff may build appropriate supporting structures, if necessary, for the sinks and cabinets to withstand the load of the countertop. 

Once we are sure that everything is in place, we adhere to the countertop to the cabinets using quality adhesives and then level and shim the countertop properly to attain the best look possible.
Apart from concrete countertops, our experts at Costa Mesa Concrete Company also specialize in granite countertops, stone countertops as well as all types of outdoor countertops.
To help us excel in your countertop project, please speak to one of our dedicated team at (949) 763-3461.