Excellent Stone Masonry Contractors in Costa Mesa, California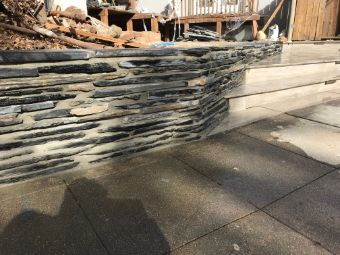 Whether you desire to construct a simple retaining wall or totally renovate your driveway, the stone experts at Costa Mesa Concrete Company have the expertise to get it right the first time. We have been working on residential and commercial properties in the area and have garnered experience working with various kinds of stones ranging from river rocks to schist. Our workmanship is top-notch, and our customer service is outstanding.
For all stonework requirements and free estimate, contact us on (949) 763-3461.
We are experienced at working with architects as well as working directly with clients to bring your stone concepts to reality. We offer suggestions, advice, recommendations, and catalogues to ensure your expectations are surpassed without exceeding your set budget for your stonemasonry project. Our attention to the tiniest detail and unique craftsmanship are parts of the high standard of service we offer to all our clients on every kind of stonework. 
Our Stone Masonry Services 
Our residential stonework services cover a range of stone elements such as retaining walls, fireplaces, pool decks, and any landscaping. We recognize that each client is as unique as their preferences and requirements, which is why we customize each project and its processes to suit your style and leave you more than satisfied with excellent finished work while maintaining our work ethics and high standards. At Costa Mesa Concrete Company, we endeavor to utilize our wealth of knowledge and experience to help our clients develop and actualize their own ideas for their homes. 
We provide a range of high quality, professional stonework to our clients by taking into consideration your style and choices. We can integrate your ideas with our expertise to successfully execute your stonework. 
Some of our services cover but are not limited to the following: fireplaces, firepits, retaining walls, sidewalks, driveways, fences, waterfalls, pavers, stone veneer, tuckpointing, and so much more!
Call us on (949) 763-3461 and let us help you with your next stonework and have free quote. 
Our Other Stonework Services
Apart from creating brand new stonework in your home and business premises, our capable team of contractors can renovate or repair any old or damaged stonework on your property such as fireplaces, patios, walkways, retaining walls, and so on. We will do our very best to make sure that your Costa Mesa stone masonry work is repaired flawlessly. 
Why Hire Us
We assure our clients of high-quality work delivered right on schedule and within your budget.
Our experts will work with you every step of the way to execute your stonework perfectly, so call us at (949) 763-3461 and let us schedule an appointment and offer you accurate estimates for your next stonework project.